SimSolTravel GABF Excursion
Took place on October 10-12, 2013
---
Check out pictures of past GABF events at the SimSolTravel Brewery Tour page.
---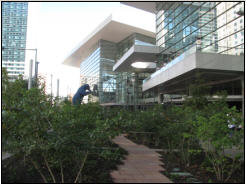 Every year, since 1984, Denver has hosted one of the largest brewery conventions in the world. GABF, The Great American Beer Festival, is a showcase for brewers and a wonderland for beer enthusiasts. 2012 was the 31st annual festival with 2,774 beers from 578 U.S. breweries. More than 36,500 gallons of beer was served to about 49,000 attendees (including ticketed attendees, brewers, judges, volunteers and journalists). The festival consists of three general sessions on Thursday, Friday and Saturday nights and a "Members Only" session Saturday afternoon when the winners are announced. There were 84 beer-style categories in 2012 with awards of gold, silver and bronze medals for excellence in each category. 4,338 beers were entered in the 2012 competition (more than an 11 percent increase from 3,930 in 2011). Awards are based on the Award Criteria, not necessarily the top three finishers in a particular category. The list of Beer Styles for the competition is divided into three major groups: Lager Beer Styles, Ale Beer Styles and Hybrid/Mixed Styles. Each beer style has a very specific description and specification for brewing and judging. GABF is a fantastic opportunity for experienced beer connoisseurs to try the best brews from other parts of the country. It is also a wonderful chance for anyone wishing to expand his or her beer knowledge, from beginner to expert.

Combination Trip!
A weekend at GABF doesn't have to be just about the beer. There are many wonderful restaurants and clubs in the downtown Denver area in addition to the shopping, theater, art and LoDo, The Lower Downtown Historic District. Take advantage of a really great opportunity to experience a wide variety of beer styles combined with a "get-away" weekend in a romantic setting at one of the quaint Denver historic hotels.
GABF Sessions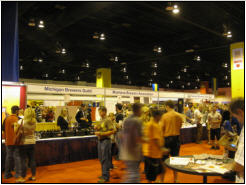 After going to GABF for several years, we at SimSolTravel recommend attending two GABF sessions: Thursday night and Saturday afternoon. The Thursday night session seems less crowded, even though it sells out, and the most interesting beers are still available. Friday can be a day of rest from beer or a time to enjoy other GABF week events, such as the Denver Rare Beer Tasting at Wynkoop Brewing Company, a fundraiser for Pints for Prostates. The Saturday afternoon Members Only session is where you can sample the winning brews as they are announced. Look for your favorite local brewery, such as Bristol Brewing Company and Black Fox Brewing Company from Colorado Springs, to see what they brewed special for this year at GABF! At GABF you can refine your understanding of a single style, try unusual specialty beers or taste the best beers from the best breweries in another region of the country without having to travel.

GABF is becoming ever more popular so you must act early to attend. Tickets go on sale early (July 30 for GABF 2013) for member of the Brewers Association (BA) and the American Homebrewers Association (AHA) and to the general public a day later (see GABF tickets for details). Past festivals have sold out within a few weeks of the start of ticket sales but the 2012 Festival sold out in 45 minutes during the public ticket sale in 2012. Members of AHA or BA take full advantage of these early sale days. For GABF 2011 tickets went on sale June 28 and the Saturday afternoon Members Only session was sold out by July 1, the Friday night session by July 4 and the Thursday night session by July 7. For 2012 the Members Only session was sold out the day the tickets went on sale. GABF does not offer anyone pre-sales, which makes those first few days of ticket sales quite busy. Even after the festival is sold out we will continue to help with your travel and accommodation planning because you may be able to find tickets from resellers, like StubHub and The Ticket Dude, or even from someone outside the event.
GABF has room blocks at several Denver hotels with a GABF negotiated discounted rates using the GABF hotel search. Or you can give SimSolTravel a call and we will help you find accommodations after the GABF rooms are gone. For any reservation made through Booking.com or SimSolTravel you will receive a valid reservation confirmation, just not through the Brewers Association at their rates.

In the past, SimSolTravel has had an outstanding relationship with the HOTEL MONACO,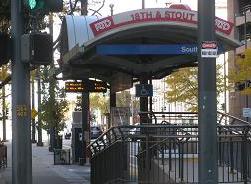 an historic hotel in the heart of downtown Denver. It is close enough to the Denver Convention Center to walk or just a block and a half from the 18th & Stout Light Rail station for those who prefer to ride. The location is great, the friendly staff provide execlent service and the rooms are very comfortable.
The original building on the site of the HOTEL MONACO was the Railway Exchange building built in 1876. It was a three-story building but the original architect and exact building form are unknown. The Railway Exchange Building Addition, built in the late 19th and early 20th century American movements-commercial style, was added in 1909. In 1937 the original Railway Exchange Building was demolished when William Ellsworth Fisher and Arthur Addison Fisher built the current seven-story steel frame structure during the Modern Movement in what was then called the Modern Style. The Fishers were two Canadian-born brothers who immigrated to Denver as adolescents and later started one of Denver's oldest continuous architecture firms in the Rocky Mountain Region, Fisher & Fisher. At the time, the Rocky Mountain News declared it to be "the first fully modernistic building in Denver." It was also listed in the Architectural Record's list of professionals' favorite buildings for that year. Built at a cost of $350,000, the structure continued to house a number of transportation and communication companies, including railroad ticket offices on the ground floor and Western Union Transmission offices on the upper floors. In 1971, Chicago Title Insurance Company acquired the building, modernized the ground floor treatments and renamed the building the Title Building. The building remained successful until the 1980's when the Denver office space market declined significantly, making the aging structures difficult to lease. In 1998 The Kimpton Hotel & Restaurant Group took the building over and called it HOTEL MONACO. The original Title Building now houses most of HOTEL MONACO and The Railroad Exchange Addition now houses PAZANO'S restaurant and the rest of HOTEL MONACO.
Transportation
We want everyone to have a great time at GABF without having to worry about who will drive. One option is to leave your car at home and don't worry about a designated driver! The RTD system provides transportation on Light Rail or bus between downtown Denver and many outlying areas (even from Boulder!). If you live farther out we recommend parking at one on the many RTD Park-n-Rides and taking the Light Rail. Daily parking is very inexpensive at the RTD Park-n-Rides ($0, $1 or $2 for in-district and $0, $2 or $4 for out-of-district; check your license plate). Also, the Light Rail can be used for going between the Stout Street Station, close to the HOTEL MONACO, and GABF at the Convention Center Station. Taking the Light Rail or bus into downtown not only avoids the temptation to drive but also saves the $20 to $30 per night parking cost at the hotel or in a downtown lot.
The Cost
While the pricing for a GABF Excursion varies (depending on the hotel, the sessions and other activities), we have compiled a sample, using our favorite itinerary, to give you an idea of the costs:
| | |
| --- | --- |
| 3 nights at a downtown hotel ($250/ea) | $ 750 |
| Room tax (15%) | $ 113 |
| 2 GABF Thursday Tickets | $ 150 |
| 2 GABF Saturday Tickets | $ 130 |
| AHA Membership* | $ 38 |
| Denver Rare Beer Tasting** | $ 200 |
| 4 RTD Express tickets at $4.00/ea*** | $ 16 |
| 4 days parking at Arapahoe Park-n-Ride at $4.00/ea | $ 16 |
| Total Estimated Cost | $ 1,413 |
| Total Estimated Cost per Person | $ 707 |
* GABF is not offering the combined membership and Members Only session tickets package this year so you must join AHA early enough to get your membership number before GABF tickets go in sale.
** Based on 2012 prices; tickets available at www.pintsforprostates.org
*** The Arapahoe at Village Center Park-n-Ride only requires an Express fare ticket for travel in 3 adjacent light rail fare zones. The Lincoln Park-n-Ride requires a Regional ticket at $5 each because it is four zones to downtown.
Because GABF is such a popular event, the downtown hotels fill up far in advance and most will have rates higher than normal for the time of year. GABF has a block of rooms at many of the downtown hotels, including the Hotel Monaco, at a group rate, which is less than the standard rate. However, the number of rooms in the GABF block is limited so you should expect to pay $250 to $350 per night if you do not book early. The GABF ticket prices have also gone up over the years and are now $75 per person for the regular sessions ($10 more than 2012 which was $5 more than 2011).


---
Simalytic® is a registered Trademark and a registered Service Mark of Tim R. Norton.
SimSolTravel SM is a Service Mark and TravelDetailerTM is a Trademark of Simalytic Solutions, LLC.
All other trademarked names and terms are the property of their respective owners.



© 2013, 2022 Simalytic Solutions, LLC